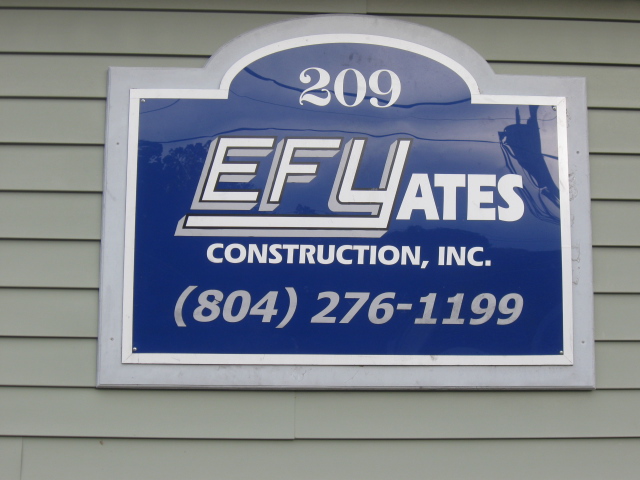 Welcome to E.F. Yates Construction
Since 1980, E.F. Yates Construction, Inc. has successfully specialized in Disaster Repair reconstruction for fire, water and storm damages to residential, commercial, historic and multi-family structures. Elwood Yates and this firm have been in business continually since December 1974 and E.F. Yates Construction, Inc. is a Class A Licensed, Registered and Insured Virginia General Contractor. Our key personnel have over 100 combined years residential, commercial, historic and multi-family experience.
We are proud of to have built many breathtaking and complicated but cost effective custom new residential and commercial projects from 1974 to present day.
Working with most of the larger national Management Companies and Insurance Carriers, we service central Virginia — Richmond and surrounding areas— for all types of disaster repairs, as well as the Tidewater areas for larger fire or water reconstruction claims from our Richmond, VA, office.
As part of our services, we also offer after-hours board-up and tarp-up for fire or storm damages through our 24-hour office number of (804) 276-1199 in the Richmond, VA, and surrounding area.
Our office and facilities are conveniently located in Richmond, VA, making every part of the Richmond and surrounding areas easily accessible for quick response for all of our provided services.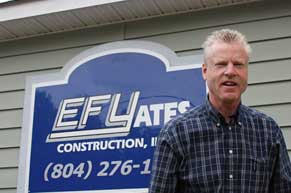 Thank you for giving our company, staff and vendors the opportunity to work with you on your reconstruction project. Please allow me to make the changes you have always dreamed of for your home become a reality. Our experience in redesigning kitchens, bathrooms and opening up your home to make it more functional makes us your best choice to complete the project. Keeping the communication channels open while making you happy as we complete your project on time is the most enjoyable experience I could ever have.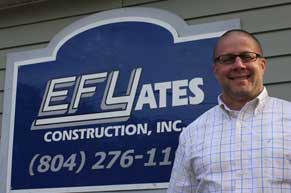 Vice President of Construction Services
Nobody wishes for their lives to be disrupted by an insurance loss. I have found by taking that few extra minutes to define expectations and to mutually understand the rebuild processes that projects start out on the right foot and end with a happy customer. I figure if the goal is "details matter" and to provide efficiency with quality, EF Yates Construction will be here for you.