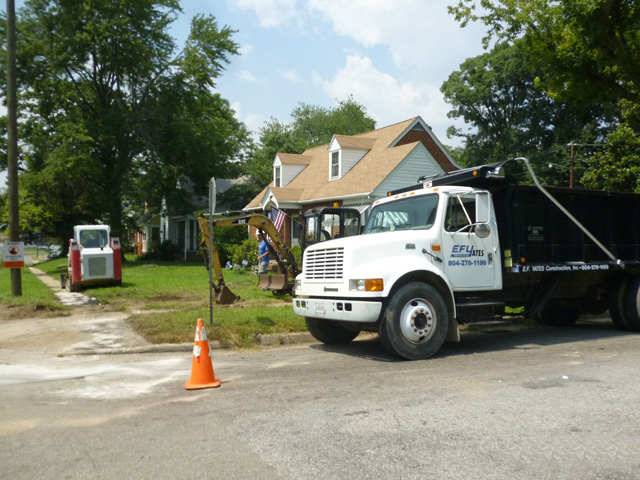 E.F. Yates Construction's Mission
We are an premier insurance repair contractor (Class A Licensed and Insured) in the central Virginia area working with all of the property and casualty insurance companies. We specialize in the entire scope of insurance restoration work and are able to take care of every aspect of your claim. We have an experienced team of estimators and project managers to work with the homeowner along with the insurance adjuster to restore your home or business to its original condition as quickly and efficiently as possible.
E.F. Yates Construction has over 25 years of experience in insurance restoration. Our goal is to ensure that every aspect of your claim is handled to the insurance companies expectations and to return you to your home in better condition than before. We pride ourselves on our skilled and experienced craftsmen. Due to our talented craftsmen we proudly offer a 5-year warranty on all our workmanship, exceeding most insurance company requirements
Fire damage restoration and smoke removal is a complex task that should oly be performed by a professional fire restoration company.
After a big storm, E.F. Yates can respond quickly to repair any damage to your home or business. In the event that a strong storm topples tree on your house, we can provide tree removal services as well as any temporary repairs to prevent further damage.
Water damage is the highest occuring insurance loss. As an experienced restoration contractor, we will ensure that no remaining trapped moisture remains and the all of your building components are restored to pre-loss condition or better.
Vehicle accidents can severly damage your home or business, requiring major structural restoration work. E.F. Yates's masonry repair experience will ensure that the best approach is chosen. We provide emergency services that stabilize your structure. We build back strong.
E.F. Yates Construction, Inc. Other Services
In addition to being sought for insurance restoration services, E.F. Yates Construction, INC. has a long-standing, successful track record for completing capital needs projects for multi-family, institutional and commercial clients on time and within budget. Our forward thinking approach aids in streamlining budget decisions and coordination. We have found that our insurance related repair clients think of us first when they have renovation projects or additions that they want to move forward with. Due to our success in the fast paced nature of restoring houses and businesses that fell into peril, we enjoy the opportunity in developing well planned construction events. This critical planning and material selection time can be worked out well in advance of the actual construction work. At E.F. Yates we value the opportunity to work with you. Let us know what you need, we aim to succeed.
Multi-Family Capital Needs & Repairs
For years, E.F. Yates has been rebuilding apartment communities from fire, storm and water damage. Starting with a quick response and ending with units ready for rental all within a time sensitive turnaround. Through this involvement, E.F. Yates gets called on a regularly to upgrade community buildings, site amenities and accessibility upgrades that meet code. When planned capital needs to be brought in on budget, trust that E.F. Yates Construction, Inc. is the General Contractor you are looking for.
Residential Renovations
As a Class A Virginia licensed contractor for more than forty years, we build in conjunction with Architectural plans and specifications to current codes. Our firm has experience with historic renovations, light site infrastructure projects, structure modifications and adaptive re-use of existing structures to new occupancy requirements. If you are in the design phase, get us those construction documents. We strive to provide you the service that you would expect from a general contractor operating for 40 years.
Supportive Services to Mechanical or Specialty Contractors
We aim to support our fellow Mechanical, Electrical, Plumbing, Fire Sprinkler and Specialty Contractors in the Central Virginia market with ancillary construction services. Do you need a closet built, trusses removed out of your way for new equipment, temporary sidewalk cover, penetrations created, structural underpinning, partition walls or any interior finishes required to be replaced as part of your Mechanical or Specialty contractor prime bid? We are looking for the opportunity to pick-up all your loose pieces and be there to aid as an under GC helping pave the way for your success.
Residential Renovations
As a General Contractor we may not always be at the same price points as your local handyman who has a home-based business or specialized tradesman (painters, roofers, etc.), but in certain cases our expertise and in-home staff may be your best option. So, before you pass us by, stop and give us a call. We do like to refer our valued business partners whenever we get the opportunity as well.